By Carol Shabantu Tshiala
Following the failure of talks held between the National Education Union and the government over the pay of teachers and support staff, a range of demonstrations have been set to commence today, 1 February 2023, in England and Wales.
Teachers are demanding a pay rise above inflation and fully funded, after the government announced last summer a 5% increase in basic pay for teachers, up to 8.9%, in order to encourage more people into the sector. But the promise made remains unfulfilled, which is another setback for the profession.
National Education Union (NEU) criticises the government
The NEU has accused the government of standing by while it consistently fails to meet recruitment targets. Educators are leaving the profession in droves, with around a third dropping out within five years of qualification.
He reports having consistently raised concerns about salaries and funding for teachers and support staff in schools and sixth form colleges to the Secretary of State for Education Gillian Keegan, but there seems no consideration for the conditions under which schools and sixth form colleges are failing.
"In addition, many schoolchildren are facing difficulties related to more complex issues (family poverty, mental health, etc.) than those encountered before the pandemic".
"Because of the Covid-19 crisis and the financial crisis, schools have to take on a lot more responsibility, but without the benefit of specialist services. As a nation, we can do better for our children's education if we invest more," said NEU.
In a guidance notice issued earlier this month, the British Government has urged school leaders to maintain doors open during the strike if possible, prioritising classes with vulnerable pupils, key working families or those with exams to sit.
How much do they get?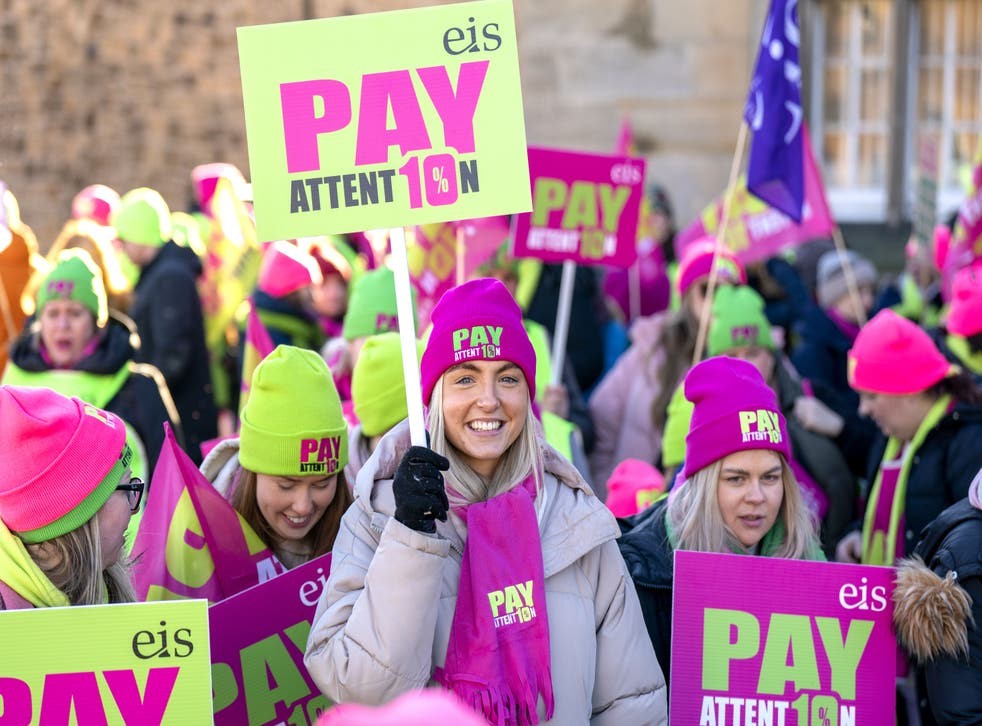 A teacher's pay is determined by their school board, based on an assessment, depending on the school, experience, seniority and pay grade.
According to the report of the Teachers' Union NASUWT of November 2022, qualified teachers are paid £29,344 and £34,502/London. Unqualified teachers receive a minimum of £20,594 for the Outer and £24,254 for London. [https://www.nasuwt.org.uk/advice/pay-pensions/pay-scales/pay-scales-fringe-outer-london-and-inner-london.html#Unqualified%20Teachers ]
Expected Teacher's March dates
Wednesday 1 February (England and Wales)
Tuesday 14 February (Wales)
Tuesday 28 February (North, North West, Yorkshire and Humber)
Wednesday 1 March (East Midlands, Western, Eastern)
Thursday 2 March (London, South East, South West)
Wednesday 15 March (England & Wales)
Thursday 16 March (England and Wales)
There will be an estimated total of seven days of strikes across both England and Wales in February and March that will affect education for many thousands of learners. While some schools have made arrangements to minimize disruptions, other schools are closed.
Under the National Education Union (NEU) reports, a vote was held by members in favour of strike actions demanding an inflationary pay rise fully financed. The ballots were opened on 28 October 2022 and closed on 13 January 2023. The majority vote for YES for England has reached 90.44% out of a 53.27% turnout and for Wales 92.28% with an average 58.07% participation. [https://neu.org.uk/pay/pay-campaign]
Indeed, as Dr Mary Bousted and Kevin Courtney, Joint General Secretaries of the National Education Council, point out: "Teachers lost 23% of their pay in 2010 and auxiliary staff 27% over the same period. The 5% increase planned for teachers this year is on average 7% below the rate of inflation. As living Costs are very high, the Co-secretaries General are appealing to authorities to reconsider the pay situation of workers".
"While this Wednesday's walkout will go ahead, there will still be possibilities for negotiation prior to the upcoming movement on 28th February, despite there being no sign that the government will present any solution to meet teachers' needs".
These strikes mark perhaps the most recent round of trade unions actions in the UK in this period, while public sector departments reduced by poor resourcing are struggling to meet citizens' demand.